At the Fourth International Swift Conference in 2016 at Szczecin, Poland, it was decided to hold the Fifth International Swift Conference in Tel Aviv, Israel.

This is the first time the conference will be held outside Europe and we are very proud to have received this opportunity to host it, and expand the discussion beyond the European borders by inviting lecturers and participants from Jordan, the Palestinian Authority, Greece, Turkey, Egypt and additional North African countries.

We hope to use the swifts as messengers of peace to expand regional cooperation and as you surely would agree, they are the perfect candidates!

We are sure that besides the interesting lectures, you will have a unique and unforgettable experience visiting our small country, rich with many swift and bird species. 540 bird species can be observed in Israel, and 500 million birds migrate over the country twice a year – March is the peak of the migration season.
CONFERENCE COMMITTEE
• Edward Mayer, Swift Conservation, UK
• Dr. Mauro Ferri, Italy
• Amnonn Hahn – Director, The Friends Of The Swifts Association (FOTS)
• Dan Alon – Director, Israel Ornithological Center (IOC), Society for the Protection of Nature in Israel (SPNI)
• Prof. Yossi Leshem – SPNI, Tel Aviv University
• Dr. Nir Sapir – Haifa University
• Sorrel Ritter – Conference coordinator, SPNI
• Representative from the Israeli Electric Corporation (IEC) [conference partner] TBD
• Representative from the Tel Aviv Municipality [conference partner] TBD

Please see the following information about the conference.
CONFERENCE REGISTRATION FEE
As in previous years, we are setting a fee to go towards covering the administrative costs of the conference:
* €100 for professionals (academics and those working in the field)
* €25 for students (until MA/diploma)
* €50 others Registration fee payment
Registration fee payment
Please fill in registration form with your credit card details.
Registration should be no later than October 31, 2017.
Please note that the fee will be increased by 25% after November 30th 2017.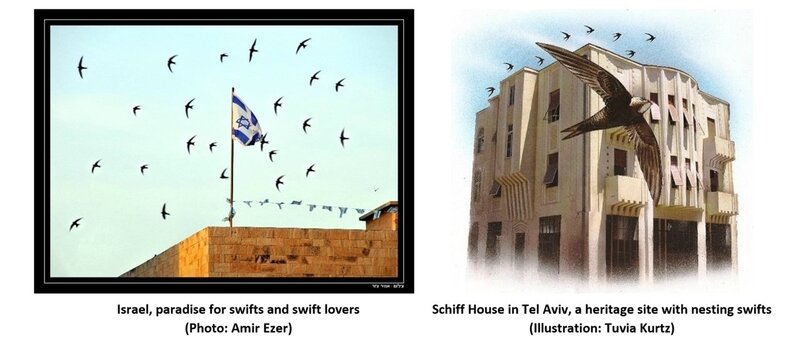 VENUE & HOTEL DETAILS
Conference hotel Ruth Daniel Residence (3 stars) :
Located in Jaffa close to the Old City and tourist sites [60 rooms reserved].
Additional hotel Dan Panorama Hotel (4 stars plus)
10-15 minute walk from conference hotel located on the Tel Aviv beachfront [30 rooms reserved].

You can of course book your own accommodation in additional hotels/hostels in the vicinity of the conference hotel via the Internet, for example: Old Jaffa Hostel - Milk & Honey Hostel (www.facebook.com/milkandhoneyhostel / milkandhoneyjaffa@gmail.com / tel. +972-3644-4316)
To download the registration form, please click here:
http://www.saveourswifts.co.uk/israel2018.htm

Please send all registration forms and queries to Sorrel Ritter, conference coordinator, at Yossi Leshem's office: yleshem@post.tau.ac.il

We recommend that you book your flights as early as possible in order to enjoy the low cost flights and prices.

Looking forward to hearing from you!