(You can also download this programme and practical information in pdf here)

Sunday, March 11th
16:00 – 19:00 Registration
19:30 – 21:30 Evening get together festive event at Ruth Daniel Residence


Monday, March 12th
09:00 – 09:30 Greetings
[not yet confirmed]: Ron Huldai – Mayor of Tel Aviv-Jaffa Hashem Hussein – Director-General of the Ministry of Regional Cooperation Maj. Gen. (Res.) Noam Tibon – Chairman of Tel Aviv Global Maj. Gen. (Res.) Yiftah Ron-Tal – Chairman of the Israeli Electric Corporation (IEC) Iris Hahn – CEO of the Society for the Protection of Nature in Israel (SPNI) Edward Mayer – Swift Conservation, England
09:30 – 10:10 Keynote speaker lecture 1
10:10 – 10:50 Keynote speaker lecture 2
10:50 – 11:20 Coffee break
11:20 – 13:00 Lectures 1-5 [each 20 min]
13:00 – 14:30 Lunch break at hotel [please note on registration form]
14:30 – 15:50 Lectures 7-10
15:50 – 16:15 Coffee break
16:15 – 17:00 Lectures 10-
11 18:00 – 19:00 Dinner [please note on registration form]
19:30 – 22:00 Guided tour of Jaffa's Old City
Tuesday, March 13th
06:00 Early morning birding tour before breakfast [optional]
09:00 – 09:40 Keynote speaker lecture 3
09:40 – 10:20 Keynote speaker lecture 4
10:20 – 10:50 Coffee break
10:50 – 13:00 Lectures 12-17
12:50 – 14:30 Lunch break at hotel [please note on registration form]
14:30 – 18:00 Swift tour in Tel Aviv to: (1) IDF Headquarters and Sarona to learn about the Nature Defense Forces and their connection to swifts and heritage sites; (2) Nesting boxes at the Israel Electric Corporation (IEC) directorate building and walk to Schiff House
19:30 Free evening in Jaffa


Wednesday, March 14th
06:00 – 23:00 Tour to Jerusalem and the Dead Sea:
* Jerusalem Bird Observatory – ringing station in the Israeli Parliament grounds
* Wadi Kelt (a gorge in the Judean Desert between Jerusalem and Jericho) to see three swift species: Alpine, Little and Pallid Swifts
* Swifts Welcoming Ceremony at the Western Wall in the Old City of Jerusalem
Greetings [not yet confirmed]: MK Tzachi Hanegbi – Minister of Regional Cooperation Mr. Reuven Rivlin – President of Israel
* St. John of Jerusalem Eye Hospital, Muristan, The Christian Quarter – The Tree of Hope – the olive tree swift sculpture and closing event with dinner and Middle Eastern music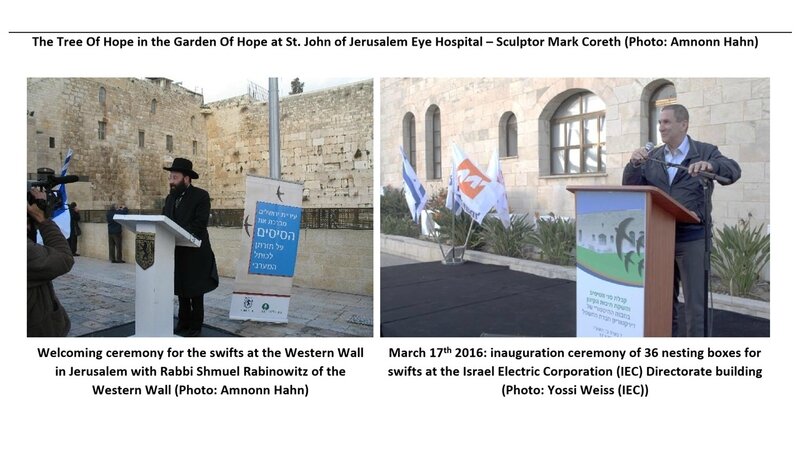 Thursday, March 15th
09:00 – 10:00 Invited speaker
10:00 – 10:30 Coffee break
10:30 – 12:00 Open discussion and conference summary
12:00 – 13:00 Lunch break at hotel [please note on registration form]
12:00 Free afternoon and evening in Tel Aviv


March 16th
Optional tour to see the Griffon Vultures in Mt. Carmel and Little Swifts nesting in the Hula Valley in north Israel as well as many more local and migrating birds PRICE: €40 (including bus and professional guide)

March 17th-20th
Optional 4-day tour (3 nights) from Tel Aviv via the Negev to Eilat to view the amazing migration as part of the Eilat 2018 International Spring Migration Festival; accommodation at Eilat's excellent Agamim hotel; price includes half board, bus, professional guides and participation in all the festival events PRICE: €755 per person in double room / €1,065 per person in single room.

Please send all registration forms and queries to Sorrel Ritter, conference coordinator, at Yossi Leshem's office: yleshem@post.tau.ac.il

We recommend that you book your flights as early as possible in order to enjoy the low cost flights and prices.

Looking forward to hearing from you!